Doctors & Staff
Meet the experienced and friendly doctors and staff who make Vision Source the leading provider of vision care products and services in Lakewood Ranch and Parrish, Florida.
---
Dr. Troy Bedinghaus, O.D.
Board Certified Optometric Physician
Dr. Troy Bedinghaus is the President, CEO and Medical Director of Vision Source – Lakewood Ranch and Vision Source – Parrish.  He completed his bachelor's degree in biology at Texas A&M University and received his doctorate degree at the University of Houston College of Optometry. He is an active member of the American Optometric Association, Florida Optometric Association and is past president of the Manasota Optometric Society. He has been practicing in Manatee county since 1997. Dr. Bedinghaus is also a member of the American Academy of Myopia Control & Orthokeratology and is certified by Paragon Vision Sciences to perform Corneal Refractive Therapy.

In 2004, Dr. Bedinghaus founded Vision Source – Lakewood Ranch, a private practice where he delivers personalized and professional eye and vision care to his patients.  After the rapid growth of Parrish, Florida, which is in North Manatee county,  Dr. Bedinghaus constructed another 5400 square foot building and opened Vision Source – Parrish in January 2020.
Dr. Bedinghaus also writes for VERYWELL.com, an About.com brand and health care oriented web site, VERY WELL hired Dr. Bedinghaus as the Vision Expert. He continues to develop the vision web site by writing monthly articles about various eye and vision related topics.
Dr. Bedinghaus and his wife, Treva have six children, three boys and three girls. They are residents of Lakewood Ranch, Florida and active members of the community. They enjoy working on home improvement projects, playing guitar and watching their children participate in ballet and basketball activities.
Dr. Jordan Petrosky, O.D.
Board Certified Optometric Physician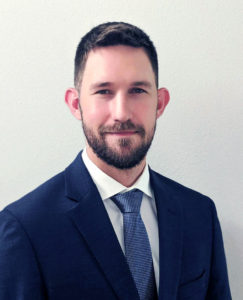 Dr. Jordan Petrosky received his bachelor's degree with Honors in Biomedical Sciences from the University of South Florida and earned his doctorate degree with Honors at Nova Southeastern University College of Optometry. He completed his residency in Primary Care, Ocular disease and Low Vision at the C.W. Bill Young "Bay Pines" VA Medical Center, one of the busiest VA Eye Clinics in the state of Florida. He is an active member of the AOA, FOA and Manasota Optometric Society.
Dr. Petrosky enjoys the treatment and management of ocular disease including the treatment of glaucoma, dry eye, progressive myopia, and specific corneal degenerations requiring specialty contact lenses.
He was born and raised in Port Charlotte, Florida and is the youngest of three children. He now lives in Bradenton with his fiancé who is also an optometrist. Together they enjoy traveling, cooking and spending time with their family, most of whom live in Southwest Florida. In his spare time he enjoys fishing and golfing.
Dr. Olga Sokol, O.D.
Board Certified Optometric Physician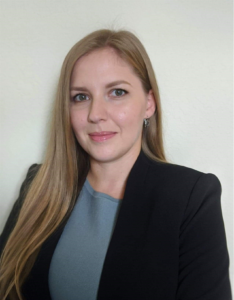 Dr. Olga Sokol completed her undergraduate studies at the University of Tampa in Tampa, FL and earned her Doctor of Optometry degree at Nova Southeastern University College of Optometry where she graduated with honors.  Her externship training was completed at the C.W. Bill Young "Bay Pines" VA Medical Center in St. Petersburg, Fl  and CorrectVision Laser Institute in Ft. Lauderdale, FL where she received training in the diagnosis and management of anterior and posterior segment conditions such as dry eye disease, glaucoma, diabetic eye disease, macular degeneration as well as co-management of LASIK and Cataract Surgery. Dr. Sokol is a member of the Beta Sigma Kappa International Honor Society, American Optometric Society, Florida Optometric Society and the Manasota Optometric Society.
Dr. Sokol delivers excellent and compassionate eye care to patients of all ages and is known for her caring and professional demeanor. She will take the time to listen to you and determine how to best meet your visual needs.
Raised in New York City, Dr. Sokol loves living in southwest Florida where she enjoys spending her free time exploring the beautiful beaches, cooking and traveling with her fiancé Dr. Jordan Petrosky, who is also an optometric physician.
---
Meet Our Team
Our staff delivers first-class service from the minute you call or walk in our office. Please do not hesitate to contact us if any questions or problems arise.
Natalie Mungenast, C.P.O., Office Manager, Certified Paraoptometric
Natalie is our office manager. She grew up traveling with some of the world's most prestigious circuses. She is a 7th generation circus performer. Performing acrobatics and aerial stunts around the world facilitated her love for all cultures. She is married to Davis and they have three children who attend a performing arts school. Natalie and her husband previously owned their own optical gallery in Punta Gorda, Florida before joining Vision Source at Lakewood Ranch. She enjoys all aspects of the industry but especially loves to ensure each and every patient receives an exceptional first class experience. In addition to her office manager duties, she keeps the office running smoothly by filling in at every position in the office.
Philomena Marchione, B.S., Administrative Assistant & Director of First Impressions
Philomena (also known as Mena) is a professional people person that graduated with a B.S. in Communication from Southern Connecticut State University. As a communications major, she specialized in interpersonal and organizational communication as well as advertising and promotion. She has over 15 years of customer service experience as well as years of management, sales and administrative experience. Mena has a passion for ensuring that our patients have the most rewarding experience when visiting our office from the moment patients call to schedule their appointment and throughout their journey to optimal vision. In her free time, Mena is a mother of an exceptional little boy. She also enjoys freelance photography
Cynthia Ramirez, Patient Care Coordinator
Cynthia is originally from Providence, Rhode Island but raised in Hopkins, South Carolina. However, over the years she and her family visited the Tampa Bay area for the past 15 years and she knew she would eventually live here.  She has worked in almost every branch of healthcare and became fascinated with working with the community and helping others, especially in their time of need. She loves working at Vision Source at Lakewood Ranch because the entire staff works as a team to make sure the needs of our patients are met at all times. Cynthia also enjoys beach photography and enjoying music.
Stephanie McKenzie, Patient Care Coordinator
Stephanie grew up in Cherry Hill, New Jersey. She is married and has one daughter and two step daughters all of whom is especially proud. She has been married to her husband, Mark for twenty-seven years. She enjoys fishing, live shows and making jewelry. Stephanie seems to always be happy and believes God has put us here to take care of each other. Stephanie will work mainly at our new office in Parrish, Florida.
Rachel Padula, B.S., Patient Care Coordinator
Rachel grew up in a very Italian and Puerto Rican family from all over New Jersey and New York. She is a 1st and 2nd generation American that mostly grew up in Charlotte County, but moved to Sarasota to attend Sarasota High School and obtain her Bachelor of Science in Biology at University of South Florida – Sarasota/Manatee. She is an avid reader, horseback rider, gardener and motorcycle rider. Rachel feels that even in our ever-growing isolation in the digital era, we are all connected by something and loves finding commonalities in other people.
Benita Tillett, L.D.O., Licensed Dispensing Optician
Benita is a Licensed Dispensing Optician. She has lived in Florida since the age of seven and moved to the Bradenton/Sarasota area in 2004 after getting married. Benita enjoys shopping at the local outlet mall and her and her husband enjoy running at Disney events. They particularly enjoy learning every day how to live a healthier lifestyle. She became interested in becoming an optician when she received her first pair of eyeglasses at 13 years of age. Picking vision care as a trade was a natural choice after becoming so interested in how her eyes and eyeglasses worked.  She received her associates degree in Opticianry at Hillsborough Community College and became a licensed optician in 2000. She enjoys working with technology so it was a natural fit for her to work as an optician at Vision Source of Lakewood Ranch since the practice is technology driven.  After being fit with several styles of ill-fitting glasses as a teenager, she takes pride in assisting our patients  to not only see better but also look fantastic in their new pair of eyeglasses.
Brittany Zane, Optical Technician
Brittany grew up in Ocala, Florida. She really loves assisting patients choosing the very best eye glass frame to fit their face because eyewear is like jewelry for the face! Brittany not only performs this function well but has a real passion for making patients feel extremely comfortable with their choice of eyewear. She absolutely loves the optical industry.  When she is not working, you can find her at the beach enjoying the sunny rays of Florida.
Amy Francis-Bacon, L.D.O., Licensed Dispensing Optician
Bio coming soon!
Chasity Conwell, Optical Technician
Chasity grew up in Palmetto, Florida and currently resides in Myakka City with her two children and their father. Chasity started in the eye care field in 2000 with mother who was also an optician! She worked and trained under her mother for seven years before venturing out on her own.  Chasity really values the weekends and reserves that time for family. They enjoy traveling to different Florida beaches and staying in various resorts. Chasity also has a unique hobby that has turned into another business venture. She owns a company called Dawn's Daisies where she creates beautiful hand crafted candles and chocolate covered strawberries.
Shawn Berry, Optical Technician
Shawn was born in Whittier, California and moved to Arkansas when he was five years old. Shawn was a star track athlete in High School. Soon after graduating Shawn joined our great men in women in the armed forces and spent four years in the Army. He was a qualified sniper and honorably discharged as a corporal. He soon entered the optical industry and became proficient fabricating ophthalmic lenses in the laboratory. He became a licensed optician in 2004.  In 2012 he moved to Ireland with his wife, Elizabeth and now currently reside in the sunshine state! He enjoys photography and reading.
Samantha Jones, Medical Technician & Scribe
Samantha was born and raised in Chicago.  She graduated from cosmetology school and moved to Florida in 201.  She soon fell in love with the optical field! She continually enjoys science and technology in the eye care profession absolutely loves meeting new patients. In her spare time, she enjoys painting, creating jewelry, going to the beach and spending time her husband and son at home.
Devyn Tindell, Medical Technician & Scribe
Devyn is a Floridian and grew up in Bradenton. She enjoys spending quality time with her grandfather as he is more like her father. In her free time she enjoys taking her dog, Miley on long walks and hiking on nature trails. She also enjoys spending time with her boyfriend and they like to travel to new places and experience different cultures. She became interested in the optical field after a family friend introduced her to the eye care profession. She is very excited to make it a wonderful career and continues to learn and grow and become highly educated in eye health.
Kimberly Ung, Medical Technician & Scribe
Kimberly was born and raised in Bradenton, Florida.  She is Chinese-American and is the mother of a beautiful boy. Kimberly has always loved with working with people and knew that is was she wanted to do for the rest of her life. She also has extensive experience in the restaurant industry and has used that personal experience and customer service skills to apply to patient care. She loves the eye care industry because it allows her to interact with people and constantly challenges her to learn more every day.
Rachel McCain, Medical Technician & Scribe
Rachel was born in North Carolina and moved to Florida when she was three years old. She lived in Lakeland where she graduated from Polk Collegiate High School.  She then graduated with a degree in Medical Billing and Coding from Ultimate Medical Academy. In her free time, she enjoys rides in the car, trips to the beach and spending quality time with her family. She has worked in the food industry and in customer service for several years and loves the people that she is able to help every day. She looks forward to her journey and career with Vision Source.
Bethany Phifer, Medical Technician & Scribe
Bethany grew up in the suburbs of Chicago and moved to Bradenton in 2017. She really enjoys cooking, dancing and spending time at the beach with her husband. She particular enjoys working with people because she believes more happiness comes from giving than receiving.
Lindsey Phillips, Medical Technician & Scribe
Bio coming soon!