Doctors and Patient Care Team
Meet the experienced and friendly doctors and staff who make Vision Source the leading provider of vision care products and services in Lakewood Ranch and Parrish, Florida.
---
Dr. Troy Bedinghaus, O.D.
Board Certified Optometric Physician
Dr. Troy Bedinghaus is the President, CEO and Medical Director of Vision Source – Lakewood Ranch and Vision Source – Parrish.  He completed his bachelor's degree in biology at Texas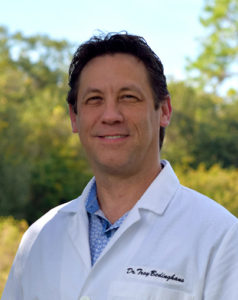 A&M University and received his doctorate degree at the University of Houston College of Optometry. He is an active member of the American Optometric Association, Florida Optometric Association and is past president of the Manasota Optometric Society. He has been practicing in Manatee county since 1997. Dr. Bedinghaus is also a member of the American Academy of Myopia Control & Orthokeratology and is certified by Paragon Vision Sciences to perform Corneal Refractive Therapy.
In 2004, Dr. Bedinghaus founded Vision Source – Lakewood Ranch, a private practice where he delivers personalized and professional eye and vision care to his patients.  After the rapid growth of Parrish, Florida, which is in North Manatee county,  Dr. Bedinghaus constructed another 5400 square foot building and opened Vision Source – Parrish in January 2020.
Dr. Bedinghaus and his wife, Treva have six children, three boys and three girls. They are residents of Lakewood Ranch, Florida and active members of the community. They enjoy working on home improvement projects, playing guitar and watching their children participate in ballet and basketball activities.
Dr. Jordan Petrosky, O.D.
Board Certified Optometric Physician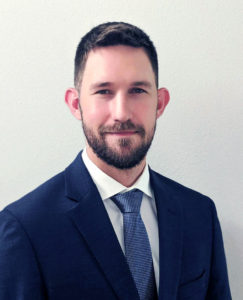 Dr. Jordan Petrosky received his bachelor's degree with Honors in Biomedical Sciences from the University of South Florida and earned his doctorate degree with Honors at Nova Southeastern University College of Optometry. He completed his residency in Primary Care, Ocular disease and Low Vision at the C.W. Bill Young "Bay Pines" VA Medical Center, one of the busiest VA Eye Clinics in the state of Florida. He is an active member of the AOA, FOA and Manasota Optometric Society.
Dr. Petrosky enjoys the treatment and management of ocular disease including the treatment of glaucoma, dry eye, progressive myopia, and specific corneal degenerations requiring specialty contact lenses.
He was born and raised in Port Charlotte, Florida and is the youngest of three children. He now lives in Bradenton with his wife, Dr. Olga Sokol, who is also an optometrist at Vision Source. Together they enjoy traveling, cooking and spending time with their family, most of whom live in Southwest Florida. In his spare time he enjoys fishing and golfing.
Dr. Olga Sokol, O.D.
Board Certified Optometric Physician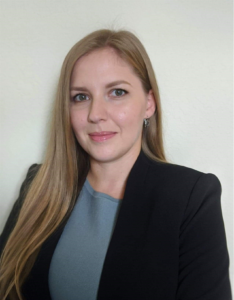 Dr. Olga Sokol completed her undergraduate studies at the University of Tampa in Tampa, FL and earned her Doctor of Optometry degree at Nova Southeastern University College of Optometry where she graduated with honors.  Her externship training was completed at the C.W. Bill Young "Bay Pines" VA Medical Center in St. Petersburg, Fl  and CorrectVision Laser Institute in Ft. Lauderdale, FL where she received training in the diagnosis and management of anterior and posterior segment conditions such as dry eye disease, glaucoma, diabetic eye disease, macular degeneration as well as co-management of LASIK and Cataract Surgery. Dr. Sokol is a member of the Beta Sigma Kappa International Honor Society, American Optometric Society, Florida Optometric Society and the Manasota Optometric Society.
Dr. Sokol delivers excellent and compassionate eye care to patients of all ages and is known for her caring and professional demeanor. She will take the time to listen to you and determine how to best meet your visual needs.
Raised in New York City, Dr. Sokol loves living in southwest Florida where she enjoys spending her free time exploring the beautiful beaches, cooking and traveling with her husband, Dr. Jordan Petrosky, who is also an optometric physician.
---
Meet our team
Our staff delivers first-class service from the minute you call or walk in our office. Please do not hesitate to contact us if any questions or problems arise.
Natalie Mungenast, C.P.O., Office Manager, Certified Paraoptometric Assistant
Natalie is our office manager. She grew up traveling with some of the world's most prestigious circuses. She is a 7th generation circus performer. Performing acrobatics and aerial stunts around the world facilitated her love for all cultures. She is married to Davis and they have three children who attend a performing arts school. Natalie and her husband previously owned their own optical gallery in Punta Gorda, Florida before joining Vision Source at Lakewood Ranch. She enjoys all aspects of the industry but especially loves to ensure each and every patient receives an exceptional first class experience. In addition to her office manager duties, she keeps the office running smoothly by filling in at every position in the office.
Carrie Metcalf, Patient Care Coordinator
Carrie was born and raised in Manatee county and grew up in Parrish, Florida. She lives in Palmetto with her boyfriend and five dogs.  They enjoy everything outdoors, especially boating and camping. Carrie also really enjoys photography and loves taking unique photos of the moon. She is very passionate about vision and eye care and is excited to learn more about the profession so she can successfully translate that information to our patients.
Shalease Stephan, Patient Care Coordinator
Shalease moved to Florida from Maine when she was only 10 years old.  She has one son and they both love the outdoors and dancing. Most weekends you will find her catching the beautiful Florida sunsets and traveling the state with her boyfriend, who is also a dance instructor. Shalease has a deep passion for helping others absolutely loves learning new things in the medical eye care profession.
Angela LaPorte, Patient Care Coordinator
Angela is a proud mother of four and moved to Florida from Michigan.  Angela has over 18 years of experience in the eye care and optical field.  She enjoys camping, traveling  and trying new restaurants with her husband, Jeff.
Heather Thompson, Intake Patient Coordinator
Heather was born and raised in Clearwater, Florida. She really enjoys sunsets, nights with full moons and the ocean.  She enjoys boating, fishing or just relaxing by the sea with her three children.  Heather earned her Medical Administrative Assistant degree first and then soon after entered world of eye and vision and absolutely loves it. She enjoys helping people get the gift of sight and also enjoys working with eye care technology. She is a valuable member of the Vision Source team as she is crossed trained in all areas.
Cameron Archer, Intake Patient Coordinator
Though he has roots all over the country, Cameron is a Florida native as he has spent the largest part of his life here.  He loves  a day out at a theme park, traveling around the world, gardening and just spending some quiet time at home with his sweet little fur baby, Sofia. Cameron is always wearing a smile and lives to inspire others to do the same. He has been sporting eyeglasses and contact lenses since middle school and sincerely believes the gift of sight to be exactly that, an incredible gift to be taken care of and cherished.
Benita Tillett, L.D.O., Licensed Dispensing Optician, Office Coordinator
Benita is a Licensed Dispensing Optician. She has lived in Florida since the age of seven and moved to the Bradenton/Sarasota area in 2004 after getting married. Benita enjoys shopping at the local outlet mall and her and her husband enjoy running at Disney events. They particularly enjoy learning every day how to live a healthier lifestyle. She became interested in becoming an optician when she received her first pair of eyeglasses at 13 years of age. Picking vision care as a trade was a natural choice after becoming so interested in how her eyes and eyeglasses worked.  She received her associates degree in Opticianry at Hillsborough Community College and became a licensed optician in 2000. She enjoys working with technology so it was a natural fit for her to work as an optician at Vision Source of Lakewood Ranch since the practice is technology driven.  After being fit with several styles of ill-fitting glasses as a teenager, she takes pride in assisting our patients  to not only see better but also look fantastic in their new pair of eyeglasses.
Dawn Rosenfeld, Optical Technician
Dawn is originally from Michigan but moved to California in 1996. She finally made her way back to Sarasota, Florida. She has been married to her husband Greg for 18 years and they share a 10 year-old boy named Russell. She has been in the optical industry for 29 years and has great experience in both private practice and in the wholesale optical laboratory field. She absolutely loves working with patients and educating them on the best eye wear for them.  In her spare time she enjoys fishing golfing and walking her bulldog Diesel.
Elyse Kersting, Optical Technician
Elyse is originally from New Jersey but moved to Delaware when she was only three years old. She visited Florida frequently to see relatives over the years and finally was able to achieve her goal of making Florida her permanent home! She really enjoys spending time at the beach, boating and spending quality time with family. Elyse enjoys living a healthy lifestyle, setting personal goals and inspiring others to do the same. She has been a part of the eye care industry for over ten years and her greatest reward has been the relationships she has built over time her colleagues and the fulfillment she gets helping patients receive the gift of sight.
Marie O'Meara, Optical Technician
Marie was born in New Jersey and moved to Florida at a young age so Florida feels like home. She is married to her wonderful husband for over 20 years and they have one son, who recently graduated with honors. Marie enjoys music, reading and watching movies.  She also really loves gardening. Marie and her sister loved gardening so much, they started their succulent side business. She has spent 20 years in the medical field and loves helping people.
Joanna Pinkowski, Optical Technician
Joanna was born and raised in Manatee county.  She has two wonderful sons, Karson and Warren. In their free time, they love to visit zoos and go camping.
Deana Bryner, L.D.O., Licensed Dispensing Optician
Deana has over 32 years of experience in the optical industry including retail sales, eye healthcare and eyewear manufacturing. She is not only a licensed optician, but she has national certifications from ABO-NCLE and NBCOT.  She also has an associates degree in occupational therapy. Deana was born and raised in Ohio.  She is married and has one son and also a Shih Tzo! She enjoys the warm weather, going to the batch and sitting on the lanai watching storms roll by.
Jaclyn Colella, L.D.O., Licensed Dispensing Optician
Jaclyn grew up in Pinellas county but relocated to Georgia in 2014.  However, she recently moved back to Florida!  She has been in the optical industry since 2008.  She first mastered the position of optometric patient care coordinator.  Soon after moving to Georgia, she became a licensed dispensing optician for a large, privately owned ophthalmology practice. She is super excited to be back in Florida and is looking forward to building her forever home with her fiancé' in Parrish, Florida!
Wendy Bunten, Optical Technician
Wendy was born and raised in Marshfield, Massachusetts. She has been married for 35 years and has one daughter. She received her opticians license in Massachusetts in 1991. By 1995 she opened her own optical practice which she grew for 25 years before selling it and moving to Florida. Her daughter, Sam, currently works at Disney World which made Wendy's move to Florida that much easier! The visit her at Disney often! During her spare time she and her husband can be found on their boat exploring native Florida trails.
Samantha Jones, Medical Technician & Scribe
Samantha was born and raised in Chicago.  She graduated from cosmetology school and moved to Florida in 201.  She soon fell in love with the optical field! She continually enjoys science and technology in the eye care profession absolutely loves meeting new patients. In her spare time, she enjoys painting, creating jewelry, going to the beach and spending time her husband and son at home.
Lindsey Phillips, Medical Technician & Scribe
Lindsey is originally from Jackson, Tennessee.  She enjoys the outdoors, hiking, swimming and spending time with her family.  She absolutely finds the human eye to be a fascinating organ and enjoy studying it every day. She has a very strong desire and drive to help others achieve their eye and vision care goals.
Adriana Santiago, Medical Technician & Scribe
Adriana graduated high school in 2018 as a junior and jumped right into working full time in the medical field. As a young person she has already acknowledge that while money is important, it is not the key to happiness and what is more important is growing, learning and being around people you love. She loves to spend time eating out and taking road trips.  She loves the beach and spending time with her puppies at home. Adriana exudes positivity and is excited about her career in the eye and vision care field.
Kelly Harkinson, Medical Technician & Scribe
Kelly was born and raised in Sarasota, Florida. She really enjoys spending time outside with her dogs, riding horses, eating fine foods and traveling whenever she can.  Kelly comes from a veterinary background where she spent six years improving pet health. While she loves animals, she wanted to elevate her heath care experience and decided to venture out into the wonderful field of medical eye care and joined Vision Source as a medical technician and scribe.
Savanna Wheeler, Medical Technician & Scribe
Savanna was born in Las Vegas but moved to New York in second grade. During her senior year in high school, she moved to Port Charlotte, Florida.  She then went to collage at Full Sail University and obtained a Bachelor's degree in computer animation. She recently moved to Bradenton with her boyfriend and they absolutely loves the area. She has 3-4 years of experience as a certified nursing assistant and also worked in the emergency room as a registrar. She trained quickly to become a medical technician and scribe for our doctors and started testing patients only after third day in the office!
Brittany Burch, Medical Technician & Scribe
Brittany was born and raised in Bradenton, Florida! She is a Manatee county native. She really loves boating and soaking up the Florida sunshine with her friends and family. She also enjoys spending free time in the kitchen creating new recipes.  He loves taking her dog, Paislee out for walks and playing outside.  Brittany has a great smile and loves to share it with patients. Next time you see her, give her one of your own!
Christina Kay, Medical Technician & Scribe
Christina has three children and is actually a grandmother of one!  She was born in Saigon, Vietnam and raised in New Jersey. She has worked in the medical field as well as emergency response teams in the fire department. She has also worked in the nursing field, rehabilitation facilities and home health care. She moved to Florida in 2019. She enjoys working with people and quality time with family and enjoying a good work-life balance. She also loves to travel and spend time outdoors. She prides her self on her work and can always be counted on by friends.
Courtney Rice, Medical Technician & Scribe
Courtney as born and raised in Mississippi. She obtained her bachelors degree in Business Administration in 2012. Shortly after, she met her husband unexpectedly at a karaoke website. After living in Nashville for nearly 5 years, they decided to move to Lakewood Ranch. In her spare time, she enjoys singing, sewing, crafting and visiting her favorite local thrift shops. She absolutely loves working with people and is very excited to be a part of the team at Vision Source.