Patient Financing

90-day payment plan
SunBit 90-day patient payment plan
Sometimes it really helps when we can spread payments over 90 days instead of paying in one lump sum.  It's nice to have some flexibility.  Whether it is for eyewear, contact lenses or medical eye care we can provide a 90 day payment plan.  It only takes 30 seconds to get approved!
To get approved before you come to our Lakewood Ranch office, click this link:  Vision Source-Lakewood Ranch
To get approved before you come to our Parrish office, click this link:  Vision Source-Parrish
Need a little more time? We also offer 12-Month no-interest financing.
CareCredit for better vision
When to pay for an examination, purchase eye wear or have your vision procedure should be the question, not how to pay for it. We like to make that decision even easier for our patients

. That is why we are pleased to offer Care Credit, North America's largest patient payment program. CareCredit lets you purchase your glasses now or begin your procedure immediately –  then pay for it over time with low monthly payments that easily into your monthly budget. Now you don't have to save up for years to finally get the vision you have always wanted. We'll help you see clearer, sooner.
Your healthcare credit card
CareCredit is the credit card exclusively for health care purchases. CareCredit offer low monthly payment plans for eye wear or procedures not usually covered by insurance, including LASIK. Don't put off improving your vision. Get your new eye wear,  contact lenses or procedure now.
For vision related health care, CareCredit offers…
Low minimum monthly payments
No up-front costs of prepayment penalties
Learn more by visiting CareCredit.com or contacting our office.  Ready to apply? Apply online for your CareCredit card today. You'll be seeing clearly in now time.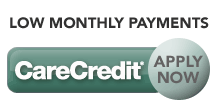 Please feel free to call our office and we will walk you through the application process to get you approved!
Visa, Mastercard, Discover, American Express and FSA's also gladly accepted.