Glaucoma Diagnosis and Treatment
Glaucoma is known as the sneak thief of sight because often there are no symptoms until loss of vision has occurred. Glaucoma affects the optic nerve which is found at the back of the eye. The optic nerve sends visual information from the eye to the brain. Glaucoma refers to a group of diseases that cause damage to the optic nerve. Containing more than a million nerve fibers, the optic nerve connects the eye to the brain. This important nerve is responsible for carrying images to the brain. The optic nerve fibers make up a part of the retina that gives us sight. This nerve fiber layer can be damaged when the pressure of the eye (intraocular pressure) becomes too high. Over time, high pressure causes the nerve fibers to die, resulting in decreased vision. Vision loss and blindness will likely result if glaucoma is left untreated. Sometimes glaucoma can occur without elevated eye pressure so the diagnosis is not always straight forward.
We have the latest technology to diagnosis glaucoma.
Below are examples of medical equipment we have to help Dr. Bedinghaus, Dr. Petrosky and Dr. Sokol diagnosis glaucoma:
Visionix VX120
In addition to several different vision measure parameters, The Visionix VX120 gives us a cross-sectional image to measure the thickness of the cornea which may be important in the diagnosis of glaucoma. Also, it allows us to measure the angle of the eye which when combined with traditional tests such as gonioscopy, can help in the diagnosis of glaucoma.

Ocular Response Analyzer
The ocular response analyzer is a new, noninvasive device that analyzes corneal biomechanical properties simply and rapidly. The ORA allows cornea compensated IOP measurements and can estimate corneal hysteresis (CH) and corneal resistance factor (CRF.) The ORA gives additional data for our doctors to analyze in addition to traditional Goldmann tonometry to check eye pressure.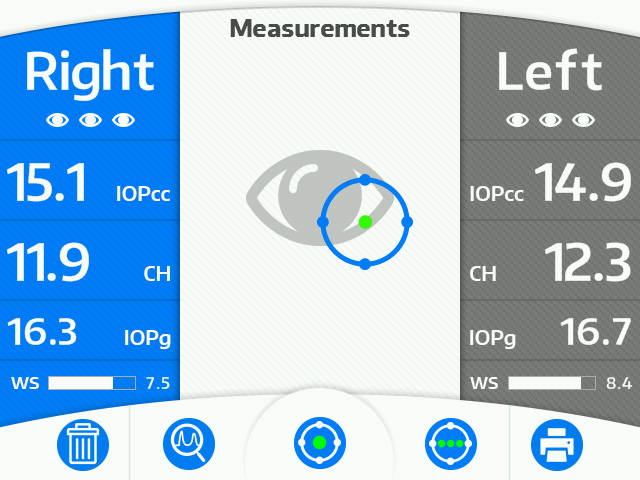 Topcon Maestro2 Ocular Coherence Tomographer
Optical Coherence Tomography (OCT) uses light waves to create detailed images of underlying retinal structures. Using this scanner, our doctors can more specifically diagnose, treat and manage glaucoma and retinal diseases including diabetic retinopathy and macular degeneration.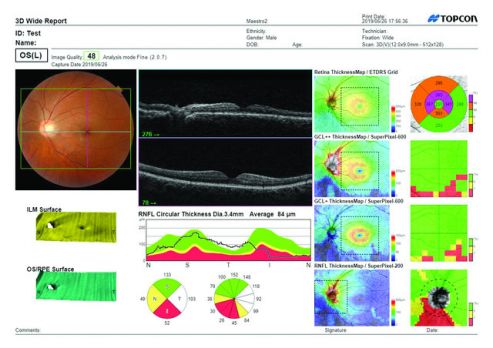 Humphrey Perimeter Visual Field
We have the latest visual field analyzer with the most recent statistical database to measure your visual field accurately. This is not only wonderful for our doctors, but also great for patients as the test is much faster than older versions this type of equipment.

Centervue Eidon Confocal Scanner
The Centervue Eidon uses a scanning laser to capture true color images of the retina and optic nerve. This allows us to track changes that can occur to the optic nerve due to glaucoma.