Our Technology
OPD – Optical Path Difference
Our office provides high definition, wave-front guided eye examinations by utilizing the Marco OPD Scan III Analyzer by Marco Technologies.
We are currently the only office in Manatee county to provide wavefront technology in an all-in-one unit. Unlike typical instruments found in most doctor's offices that measure 3 or 4 data points on the eye, the Marco OPD Scan III measures literally, thousands of biometric data points.
Now, with a single device, we can obtain a comprehensive refractive analysis that previously would require at least six tests on six different machines! It also allows us to diagnose difficult cases of unexplained vision problems, such as poor night vision. Furthermore, it enables us to better manage eye disease, in particular corneal pathology. We can also perform a higher level refractive evaluation for patients considering contact lenses, LASIK or premium multifocal intraocular lens implants. It also speeds up your examination time and helps to ensure accurate and correct prescriptions.
TRS-5100 Electronic Refraction Technology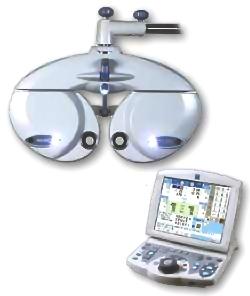 To assist the doctor in performing high definition, wave-front guided examinations, our office uses TRS-5100 Electronic Refraction Techology in all of our exam rooms.
The TRS 5100 replaces the standard refractor designed in 1928 and which most offices use. It allows us to control the entire refraction process from a keypad. Prescription lens choices move quickly, more accurately and efficiently providing less discomfort to you. Because the TRS 5100 is completely programmable, all the lenses are moved at the touch of a button, taking us to each new refraction step in more effecient and accurate way. The TRS 5100 Refractor is extremely through and it decreases the time you need to spend making choices.
For most of the last century, testing vision meant giving the patient the choice between two lenses, "which is better one or two". We can now show you 2 images at the same time to help fine tune your astigmatism to within an unprecedented 1 degree accuracy.
With the TRS-5100 we are able to instantly show you the new prescription compared to the old prescription with a touch of a button so you can make a better decision if updating your glasses will improve your vision. Our patients love the accuracy, speed, and the precision that the TRS 5100 technology provides.
Zeiss Cirrus HD-OCT 500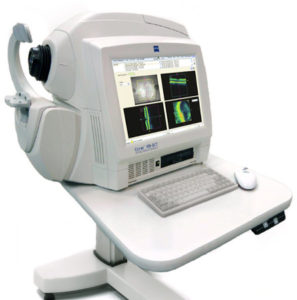 CIRRUS HD-OCT 500 represents the latest in eye care technology.  An OCT scan is similar to an MRI for the eye.  This technology can scan your eye in a matter of a few seconds. The resolution is so sensitive that our doctors can visualize what layer of the retina a particular problem is affected.  The OCT 500 can help our doctors analyze conditions such as corneal problems, glaucoma, macular degeneration and a host of other retinal problems.  In addition, this device can be used to manage and track eye diseases over time.
Eidon Confocal Scanner – Digital Retinal Imaging
We utilize cutting edge wide field digital retinal imaging to better assess eye problems and disease affecting the optic nerve, retina and blood vessels. Our Eidon Confocal Scanner can not only capture a digital image of your retina, but can help us localize what layer of the retina is being affected by a problem or disease process. While essential for diabetic eye disease and well as other eye disease, we also use this technology for keeping better records for our routine-healthy patient eye exams.  This instrument gives us a much wider field of view than traditional retinal cameras.  It also give the doctor a true color image unlike the red, bleached image of the retinal that retinal cameras present.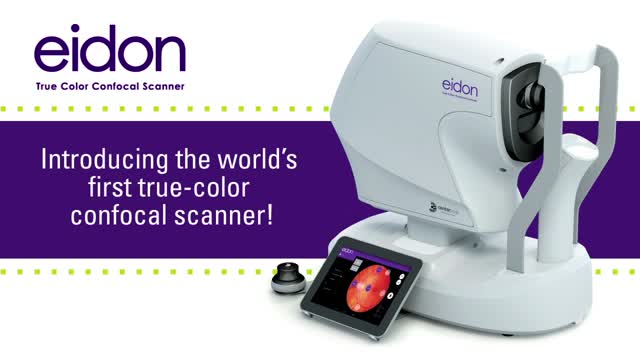 Oculus Keratograph® 5M
The OCULUS Keratograph® 5M integrates a high definition camera and corneal topographer into one seamless and state-of-the-art imaging machine. Ocular surface disease is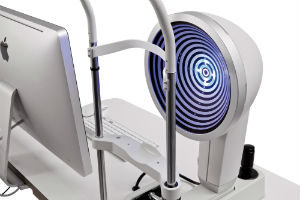 match for this innovative tool, which integrates with computer technology to create detailed, full-color digital images of your eye. It is used to collect specific information including high resolution images and videos so that not only we can diagnose the cause of your dry eye, but also measure it in the future to see if we are making progress with your treatment. This device also allows us to capture special scans of the meibomian glands within the eye lid that are often the cause of dry eye syndrome. Furthermore, the actual tear volume can be measured. At the completion of all the individual tests, a report can be printed called the Crystal tear report that explains each test and how your results are scored.
Lipiflow® Thermal Pulsation System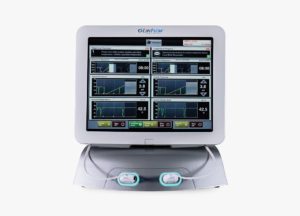 LipiFlow is an FDA-approved medical device for treating meibomian gland disease which is the leading cause of dry eye syndrome.  It is a sophisticated technology based on the proven therapeutic use of heat and massage to relieve blockages. The procedure is quick and noninvasive. LipiFlow uses precisely controlled heat and massage to open blocked ducts and restore normal gland activity. Patented components called Activators deliver this treatment directly to the inner and outer lids while protecting delicate eye tissue. Sterile and single-use, the Activators are designed for patient safety and comfort. Each treatment takes approximately 12 minutes right here in our office. Most patients experience improvement in symptoms in as little as two weeks and relief can last from 12-24 months.
Electronic Health Records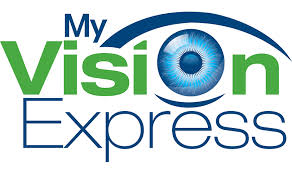 Unlike many optometric practices, we made the decision to convert our practice to a computerized electronic medical record practice in 2006. We use government certified software, My Vision Express. This not only brings our daily operations above today's standards, but also eliminates many hand written transcription errors. Furthermore, it gives us better ways to analyze data for patients with medical eye problems. It allows the doctor to spend more time with you, rather than laboriously scribbling hand written notes during the examination.
If you have a problem after-hours, our doctors can access your record anytime to review current medications and allergies before calling in a prescription to your pharmacy.  Your records are also kept confidential and safely protected.  The records are password protected and under go a nightly automatic backup where records are kept off-site in a different location. Our building could be destroyed and your records may still be safely accessed by the doctor.
Humphrey 740i Field Analyzer
 Validated by more than 25 years of research, design and clinical experience, the Humphrey 740i is the accepted standard of care in glaucoma diagnosis and management.  With over 60,000 installed units worldwide, the Humphrey Field Analyzer is the premier automated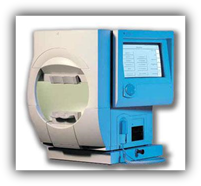 visual field perimeter.  Our office uses this instrument to detect vision loss in any part of the visual field. This is important when evaluating glaucoma or those suspected of having glaucoma. There are characteristic patterns of vision loss associated with damage to the optic nerve in glaucoma.  Visual field testing allows us to detect these early changes and also helps us to monitor progression of the disease. Visual field testing is also helpful in detecting vision loss caused by neurologic disorders such as stroke and brain masses.
Ocular Response Analyzer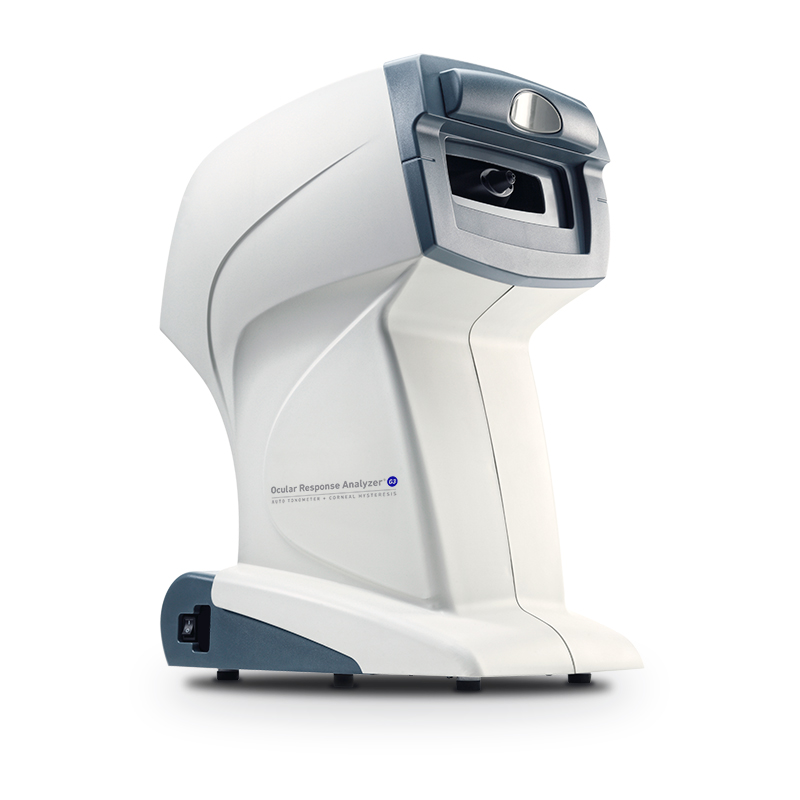 The Ocular Response Analyzer measures Corneal Hysteresis and provides a Corneal Compensated Intraocular Pressure (IOPcc), a better indication of the true pressure, proven to be less influenced by corneal properties than Goldmann or other methods of tonometry. Corneal hysteresis measurements are significantly associated with risk of glaucoma progression. Eyes with lower CH had faster rates of visual field loss than those with higher CH. Research shows that this is the most accurate way to measure eye pressure.
DGH Ultrasound B and A Scan
The DGH Ultrasonic device uses ultrasound to image the back of the eye to rule out retinal tears, detachments, retinal masses or growths.  This is especially useful when it is difficult for the doctor to view the inside of the eye because of bleeding or because the patient is extremely uncomfortable due to trauma, pain and light sensitivity.  This device also contains an A scan for measuring the length of eye which is important for Myopia Control in children who are developing nearsightedness at a rapid pace.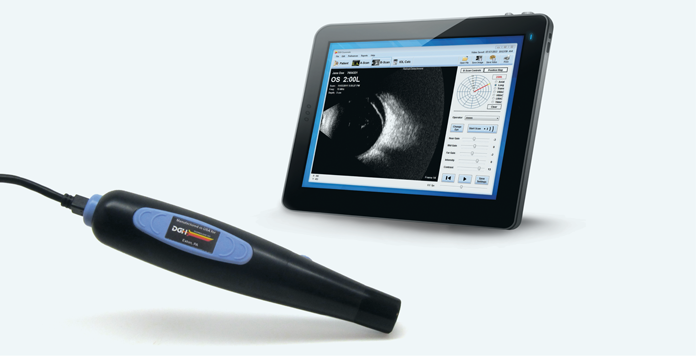 Lex 1000 Santinelli In-Office Lens System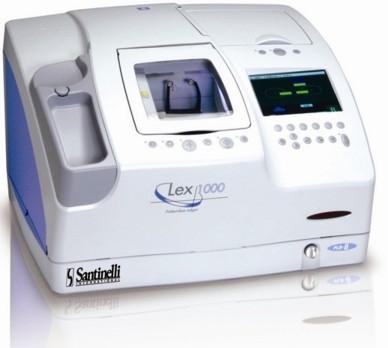 The Lex 1000 Lens Edger's advanced technology enables us to complete most eyeglass orders in-house. This speeds up the process so you do not have to wait for your eyeglasses. We pride ourselves on providing the very best eyewear available today.  We merge excellent human skill and workmanship with advance technology and outstanding customer service to come up with a winning formula.  Our onsite laboratory allows us to make the most advanced lens designs in the newest thin and light lens materials. Completing our own lab work allows us to  maintain top quality control and provide extremely fast product delivery.
 Visioffice – Digital Eye Wear Lens Measuring System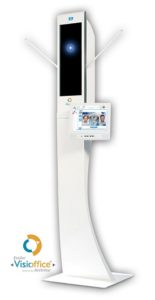 Manfuactured by Essilor of America, Inc., the Visioffice allows our optical technicians to capture 3D images of patient's eyes to provide more accurate, personalized eyeglass lenses for every visual need.  The Visioffice measures the exact location of each eye individually, the eye center of rotation and the exact visual behavior of the patient.